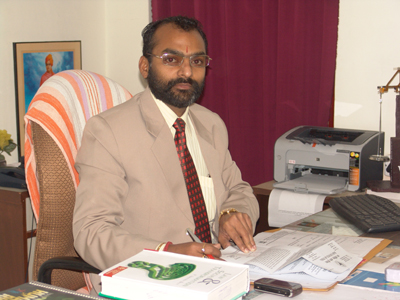 Prof. (Dr.) Vaibhav Goel Bhartiya (Former Professor & Coordinator Law, LBSN Academy of Administration, Mussoorie) is designated as Principal & Dean of Sardar Patel Subharti Institute of Law (SLC). He has done his Masters in Mercantile Law. He has completed his Doctor of Law (LLD) in public Health Law. He has done his P.G Diploma in journalism and mass Comm from S.B.L.O.A. Institute. He has proved his academic excellence in various universities he has been a part of Hidayattullah National Law University, Addis Ababa University Addis Ababa, Ethiopia, Africa. He has also contributed his professional expertise in building B.P.R studies in Ethiopia with the collaboration of Ministry of Health Ethiopia.
On account of his academic excellence in the subject he enjoys, he has had the privilege of working as academic advisor in various reputed institutions of Panipat, Kairtu and Bankhanda Hapur. He has been a visiting fellow/guest faculty at many reputed universities. He has also contributed to youth international Human Rights for India Chapter. He has guided many research students in completing their dissertation and thesis (for M. Phil and LL.M.) in India and abroad.
Recently, under his supervision, five research scholars are pursuing their research work. He also delivered key note lectures at various Local, National Seminars and has also participated in various International conferences in India and abroad. A committed academician and prolific writer, he has to his credit various publications, out of which some are in international journals. He has more than 13 year of teaching and professional experience of the subject in graduate and post graduate classes. He is keenly devoted to quality education, with a view of fulfill his mission to raise SLC as LAW College of National repute. Recently, he has been paneled to teach law NACEN for the training of 61st Batch of IRS Officers. He has been invited for guest lectures to the Civil Service Officers at Uttar Pradesh Academy of Administration and Management, Lucknow and also at Lal Bahadur Shastri National Academy of Administration,Mussoorie. He is working on his own project, i.e., the existing health regulatory regime in the Indian sub-continent and the African continent with a view to improve effective health care without significant costs.
Legal Education presently is no longer restricted to the four walls of the classroom but has transcended beyond these traditional boundaries. It is one profession that enables a person to cater to the welfare of humanity directly of indirectly cutting across socio-economic and even political considerations. Legal empowerment is also an effective tool for social and gender empowerment in multifarious ways such as disseminating information and creation of awareness of the legal rights and providing an effective mechanism to realize them. The endeavor at Sardar Patel Subharti Institute of Law is to provide excellence in Legal education without compromising on the overall development of budding and dynamic students. Sardar Patel Subharti Institute of Law (SARPAL-SIL) was established in the year 2002 with the approval of the Bar Council of India Under Advocates Act 1961 (Vide its letter no.BCI: 1483/2012(LE.Mtg.7th July, 2012) dated 18/07/2012). Faculty of Law is located in lush green surroundings, in a magnificent building with spacious and well-furnished lecture theatres, equipped with necessary and modern instructional aides. We take pride in possessing a rich Library, a vibrant campus and excellent faculty which makes it one of the best institutions for imparting legal education in India. The methods of teaching in Faculty of Law include lectures, discussions, case law analysis, moot court training, project assignment, free legal aid camps, internship programmes and placement opportunities. In addition, the college organizes seminars on contemporary socio-political-legal issues, conducts clinical courses and trains students in legal research and legal writing. The college has an impressive array of academic, sports and cultural facilities.